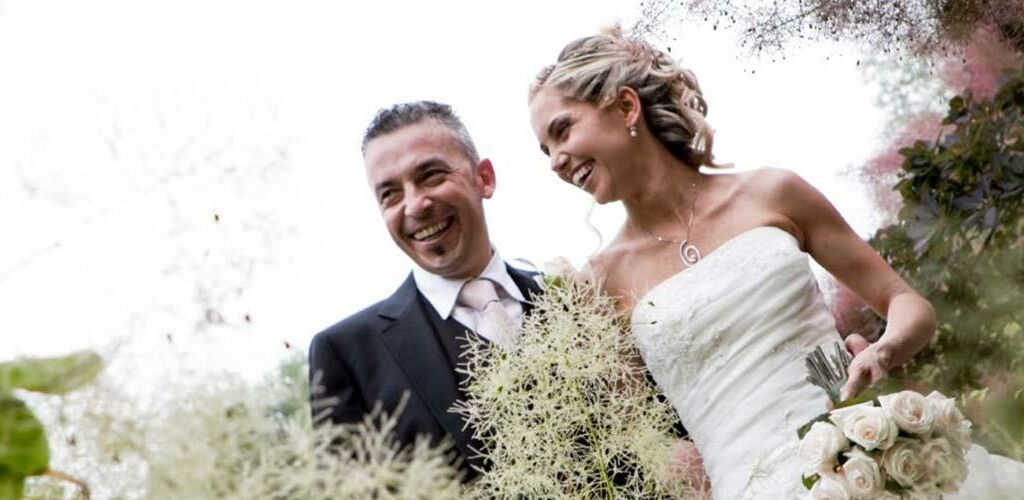 Ideal Location
Planning your wedding should be a fun and enjoyable experience. Our goal is to make sure that's how you feel from the first moment you walk in our door until your last guest has left!
Hueston Woods Lodge offers spectacular natural surroundings that create the ideal backdrop for photos. We have a creative, professional staff to help make your dreams come true on your special day. Whether it's the beautiful ambiance of our site, overnight accommodations for your guests, the quality of our food, or our superior service, we are confident your reception will be a once-in-a-lifetime event to cherish forever.
Wedding Receptions
---
Banquet Rooms
Our lodge offers two banquet rooms that are appropriate for wedding receptions.
The Teepee Ballroom accommodates up to 200 guests with a rental fee of $2,000.
The Fireside Room accommodates up to 100 guests with a rental fee of $1,000.
Cake Arrangements
Arrange for your own wedding cake through any licensed baker of your choice. Please provide us with your baker's name, phone number, and time of delivery. It will be your responsibility to collect and return all plastics and fountain accompanying your cake. Your cake will be displayed on a round or square table and will be skirted in white linen. A $50 minimum cake-cutting fee is applicable.
Decorations
Our tables are decorated with white linen napkins and table covers. You may provide your own candles and use our holders. You may also purchase our 15" ivory tapers at the cost of 75¢ each. Hurricane globes are available to rent for $2.50 per globe. There is a decorating fee for us to arrange place your cut flowers and candles.
Fresh cut flowers and centerpieces should be delivered to our Sales Office by noon on your wedding day for evening receptions. If you are planning to have rice, birdseed or confetti for your guests to throw, we ask that you please wait until you are outside the building before it is thrown. A $50 clean-up fee will be charged if it is thrown indoors.
Meal Arrangements
A catered meal is required in order to reserve one of our ballrooms. The meal selection should be based on the time of your wedding. We offer an elegant hors d'oeuvre assortment, hot buffet, or a formal sit-down meal. A service charge of 20% plus state sales tax will be added to your food cost. All food and beverage consumed in our banquet rooms must be purchased through our Sales and Catering Office. You can download our Banquet Menu here.
Bar Arrangements
All alcoholic beverages must be purchased through the Lodge. A party and cocktail sheet is available with complete information on ordering a private banquet bar. A bartender fee applies on each bar option and for each bar. Fees are $20 per hour for a minimum of three hours. A minimum of one hour is required on all bars.
Billing
A deposit of $1,500 and your signed booking contract are due 10 working days from your contract date. Cancellation without penalty is up to 6 months prior to the reception date. If cancellation is less than 6 months, the deposit will not be refunded. Advance payment of your estimated cost is due 15 days prior to your reception date with a certified check, bank check or cash. In partnership with Ohio Department of Natural Resources, U.S. Hotel and Resort Management, Inc. will assess a 3% beautification fee on all purchases at the lodge. The monies collected are designated to be used for the continual improvement of the overall lodge and cabin accommodations and recreation amenities only.
Questions?
We are here to help. Contact us today with your questions.
Group Sales
513-664-3500